Behind the racket
"Tennis is mainly a sport you have to teach yourself. Coaches are there to guide you and tell you what you need to work on, but you have to fix it yourself." Senior Macinze Coiner
October 3, 2019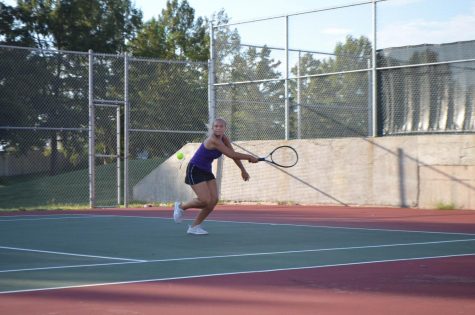 The sport of tennis lends itself to an intimacy built not only on the upon the trust of teammates, but on the camaraderie of competitors as well. It is not uncommon to see avid communication between adversaries during a match complimenting and supporting each others actions. The kind nature of the sport makes it relaxed while still maintaining a competitive nature. 
"Before we start the match we're really nice, we introduce ourselves, we congratulate them after the game even if we lost," Macinze Coiner, a senior who began last year, said.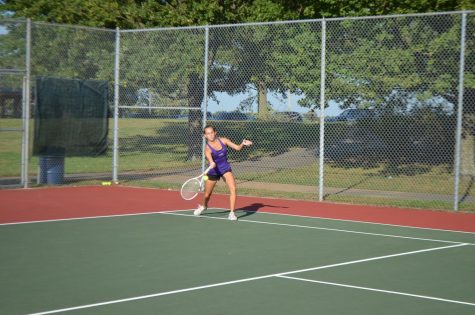 The familial bond formed between teammates doesn't end when they step on the court; in fact, it's strengthened. Almost like a pair of twins, playing doubles forms a unique link between the athlete's minds, allowing them to read and interpret each others motions on the court and react accordingly. After playing doubles, partners become more like family than teammates.
"I've had the same doubles partner for almost the last two years and we have learned each others habits. We're always pretty close to winning a match when paired together," Coiner said.
While tennis is a high endurance sport, anyone can play if put their mind to it. Tennis is a mental game, and a player needs to want to get better if he wishes to improve themselves. Staying honest with themselves and putting forth effort is what makes a good tennis player, not just athletic prowess. Coiner said that even those who "haven't played the sport and don't know how to play will definitely get better if they keep working hard."
The things an athlete learns while playing tennis don't just apply to the sport, but also to life outside the court. Self-improvement and guidance is a large part of becoming a successful tennis player. It won't be hard to find a tennis player who sets their goals high and their success higher.
"Tennis is mainly a sport you have to teach yourself. Coaches are there to guide you and tell you what you need to work on, but you have to fix it yourself," Coiner said. 
Learning to put in effort is not only an important part of tennis, but also an important life lesson. Athletes interested in pursuing tennis should see Coach Kramer in the spring.