Volun-teen Popp gains valuable experience
"You get to be behind the scenes in such a way that you are literally two inches away from a humongous lizard or a three-foot-long snake." -Bethany Popp, senior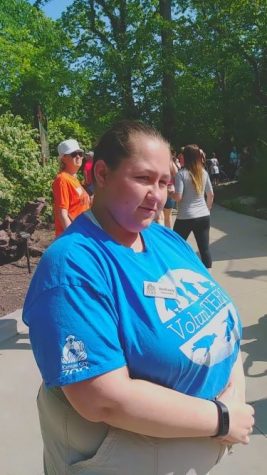 For the past several years, senior Bethany Popp has had a backstage pass to the KC zoo. As a zoo volun-teen, Popp has spent her time differently than so many of her peers, putting hours into cleaning the cages of exotic animals and bringing public awareness to these rare and endangered creatures. From the moment the program starts, its go, go, go.
"You work eight weeks out of the summer, so every week you're doing something," Popp said. 
While the job comes with its own challenges, such as rising early in the summer, dealing with exotic animals, and trying to educate the public, Popp would never take back her time spent with the KC zoo. The experience is unlike any other and has provided Popp and her fellow volun-teens students a truly unique up and close view of these animals.
"You get to be behind the scenes in such a way that you are literally two inches away from a humongous lizard or a three-foot-long snake," Popp said.
Only a select few students get to enjoy this privilege. Spots in the program are limited and the application process is rigorous. Popp was one of only twenty students who got in and considers herself lucky.
"I moved here my last three months of eighth grade, so it was hard because I was just finding out about it, so I just barely got my application in on time," Popp said.
While many people support the KC zoo, there are always people who oppose the idea of zoos. Members of the volun-teen program strive to change people's opinions and keep the public well informed.
"We're trying to educate the public and let them know that zoos are not bad things," Popp said. "It's hard; you still get a lot of people who hate the zoo who believe that you need to keep animals in the wild."
Every student's experience as a volun-teen is different. After the first year on staff, workers can become interpreters, in charge of informing the public, a counselor, responsible for interacting with the different groups who come to the zoo. Popp went the route of becoming a junior keeper.
"This year, I was working with the education animals," Popp said. "I would get there around 7:30, so way before the zoo opens, and go back to my area. I was behind the elephants, behind the scenes. I would go in, and, depending on the morning, start out cleaning out the snakes and lizards." 
Working with the animals at the zoo so closely has opened Popp's eyes to the incredible bonds you can form with these amazing creatures.
"You wouldn't think you'd be able to give a connection to an owl or your porcupine, but you can, and you're able to just sit there and talk to them and it's so awesome," Popp said.
Popp has been enrolled in the volun-teen program for five years and is grateful for how the experience has positively affected her life.
"I have definitely gained confidence," Popp said, "I was the shy little girl who would hide in the corner and not be able to speak to anyone. It has definitely given me a greater appreciation for animals and an easier understanding. It has pushed me out into the world."
While students can participate even if they don't plan to go into an animal related field, the majority of volun-teens are there to get experience before heading to college, much like Popp. She plans to attend Utah State University and get a degree as an exotic veterinarian, the next step in her Unique journey. This is Popp's last year in the program, and her experiences at the zoo could not have been more positive.