Boys Cross Country Team Races to the End
Although Coach McDavitt is experiencing his first year as the BSHS head coach of cross-country, he has previously had experience as a head coach at Raytown High School. Because of this experience, he believes the change wasn't difficult, as he didn't have to "relearn" any of the technical know-how of being a coach. Even with new Wildcat traditions to take on and a new team to coach, McDavitt simply states that it all "becomes repetition" for him. 
As the new head coach, however, McDavitt has implemented many changes to the traditional style of Blue Springs coaching. Coach Gallick, the previous head coach who recently retired, used what some would call the "Old-School" method of coaching. McDavitt states that this is the type of coach he grew up with and was used to. However, he has taken an alternative route in training to allow for flexibility. In order to prevent injury, he lets his athletes have a say in what they accomplish each day. Giving the athletes alternate strategies for improvements has its benefits and drawbacks.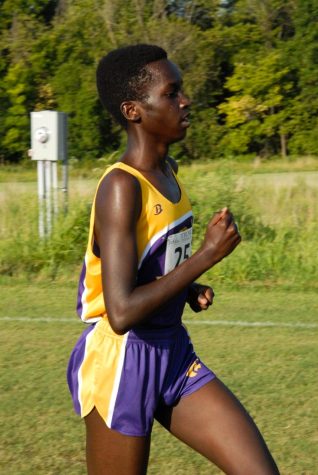 Daniel Cheluget, a senior on the varsity team, is the perfect example of this balance of training styles. In the last few years, Daniel has had troubles with many season-ending injuries. However, this year, Cheluget has spent workouts on the track and grass, as usual, but has also taken time on the stationary bike to make easy days even easier. This helps to prevent injuries caused by excessive use. This style of training has allowed Daniel to finally reach his personal record for the 5-kilometer race and run with little pain. 
Several runners this season have experienced exceptional drops in their times since last year. Jaise Bardwell, a sophomore on the team, is a perfect example of this improvement. He has seen a whopping two minutes and 52-second drop since last year's personal record and has progressed from a C-team position to a mid-Varsity placement on the team.  
Viger Romo, a senior, and Luke Ontman, a junior, are currently the top two runners on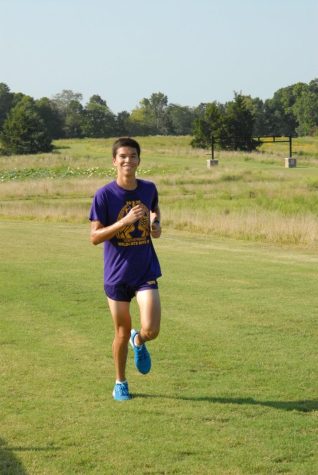 the team, with 17:30 5K's under their belt. Also, Ontman with yet another year to improve. Romo is another success story who has made a serious jump in his time over the course of his high school career, running an 18:24 his freshman year to a 17:30 his senior year. Romo stated many goals he has as he approaches the end of his senior season, one of which is to qualify for the state meet. However, he also expresses concern considering our district meet this year is heavily stacked with many strong teams. Both Viger and Otman are currently working to improve their times to qualify individually for state.  
Coach continues by saying that there is still a chance for Keagan Enicks, a sophomore,  to qualify. Enicks has experienced a stress fracture in his left foot, which has caused him to miss most of this season. After the six weeks recovery, Enicks made his debut at the Heartland Relays and hopes to make a return at the district meet for a chance to make a rush to the state competition. Enicks is hoping to race a low 16 minute time in the 5k. 
McDavitt states that the commitment he's seen with a few of his athletes and the work they have put in this year will certainly carry over into next year. Coach also mentions that the biggest pushes in time will be seen after Track and the beginning of Summer training next year. He looks forward to possibly seeing full minute dives for most of his athletes which would create a rather high scoring team for the following 2022 season. 
Overall, the team has accomplished much this season and still has many aspirations going forward into next year. McDavitt states that it's good to work hard but having fun is much more important in creating a strong and effective team. He also believes that this team has much potential and that will carry future seasons, as well. Be sure to keep an eye out for future updates concerning the distance runners of Blue Springs High School.