Netfix's Top Five
Hot chocolate, a fuzzy blanket, and a good TV show is the best way to start off winter. Netflix's top 5 list starts off with YOU.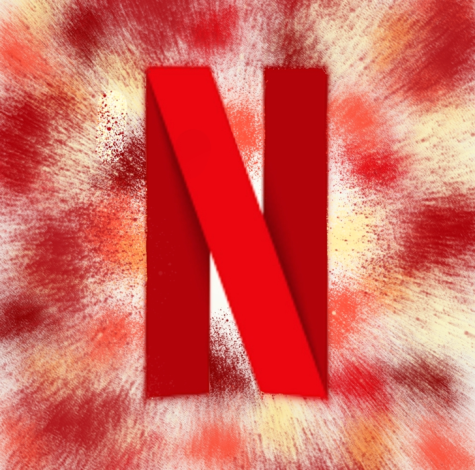 1. You: What would you do for love? Marked number one on Netflix, You is the perfect blend of psychological thriller and crime fiction.  A brilliant bookstore manager, Joe, crosses paths with an aspiring female writer, only to become his new obsession. Battling his desire for love and his mysterious past, he risks it all to find love. The main character refuses to let anything or anyone get between him and his target, but what length will he go to prove his love for her? 
2. Squid Game: Squid Game is a thriller, drama, and action fiction series set in Seungbong-ri, an island located in the northwest of South Korea where hundreds of desperate people fight to win a grand amount of money by participating in children's games. These participants risk friendships, family, money, and their own lives to win the ultimate prize. Seong Gi-Hun, the show's protagonist, puts that to the test. With loads of debt piling up, Gi-Hun takes action in the Squid Game. How willing is he to trade everything for money?
"
I like intense action-packed movies and tv shows… Squid Game was an interesting series, and I recommend watching it.
— Amelia Alexander, Sophomore
3. Maid: After fleeing from an abusive relationship, a young mother, Alex, begins cleaning houses to provide a better life for her daughter, Maddy. Throughout the serious, small acts of kindness help to push Alex forward. Overcoming homelessness, relationship difficulties, hardship, and poverty, she works hard to better her life for herself and her daughter.  
4. Shameless: Fiona, the daughter of a drunk, selfish father, takes matters into her own hands to care for her five younger siblings. Her father's ignorance and selfishness force her to steal food and money to make ends meet for her and her siblings. This drama, comedy series shares the message of acceptance; accepting how people live their lives, accepting certain situations, and accepting the hand we are dealt. 
5. River Dale: Riverdale is a teen drama, mystery, and crime series. Starting off at his new High School, Archie Andrews wants to pursue his music career. However, his relationship with his teacher has left him without a mentor, and his best friend Jughead is in a bad place. With things looking down, a mysterious new girl arrives at school. Amidst the small-town lurks a dark mystery, the death of Jason Blossom, the twin brother of the popular troublemaker, Cheryl.  Riverdale shows what happens when sheltered youth finally gets exposed to real-world problems.
"
Riverdale kept me on the edge of my seat… I love the show because of how much drama there is.
— Liam Smith
So, kick off your shoes, grab your remote, and start streaming!