Wildcat artists make their mark
"This is my first art competition. I'm nervous because with ceramics my pieces are more abstract and usually there's a boundary or a box that people are looking for, and I don't usually fill that." – Etain Tom, senior
Regardless of whether their focus is on brightening up common spaces or preparing to continue their artistic journey beyond high school, creativity is alive and well among BSHS's talented artists.
Art teacher Jessica Taul recruited senior Etain Tom to participate in the Raymore art competition. Tom will be competing in ceramics, specifically hand building. This is her first time participating in an art competition and she is nervous about the challenges of hand building in comparison to wheel throwing.
"[In hand building] you're basically just making a sculpture from the tools that you have, so it's not as easy," Tom said. "It's more detailed."
Artists of all media take time out of their busy schedules in order to bring their pieces to life. When Coach Donohoe requested an artist to paint a mural of the Wildcat logo in the Wildcat room, art teacher Johnna Colman recommended senior Lexi Delap.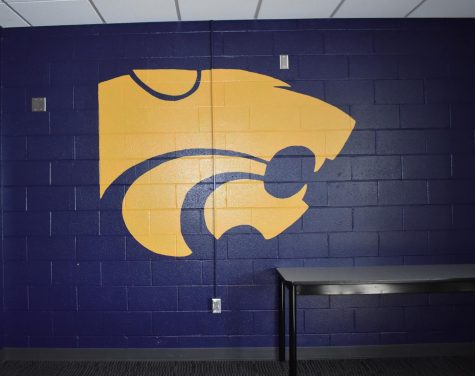 Delap's gargantuan venture took six hours over the course of a month to complete. The project itself was a unique challenge and required a great deal of preparation and perseverance.
"I could only do it for so long during the day," Delap said. "Also I had to find a projector, trace it out, and put primer on first before I could even actually start painting. Then I had to do multiple coats of the paint so the purple wouldn't show through because the yellow was such a lighter color compared to it."
The project didn't flow smoothly every step of the way, and Delap found herself free handing some of the project. 
"I forgot to put masking tape on it, so every time I just had to try to make these really straight lines," she said.
Super-sized artistic ventures are not the only daunting projects out there. Regardless of a projects physical size, every piece of art comes with its own unique set of challenges. Whether it's staying inside the lines or thinking outside the box, creating a unique piece that fulfills the requirements placed on it is rarely a simple task.
"This is my first [art competition]," Tom said. "I'm nervous because with ceramics my pieces are more abstract and usually there's a boundary or a box that people are looking for, and I don't usually fill that."
Overcoming obstacles, though, is all part of the fun. People become artists because it is what they are passionate about, what they love to do. Sometimes, it can be even more fulfilling to take on something that specifically pushes boundaries and presents challenges.
"I haven't painted anything that big before, but to me it wasn't really that hard because it was just a traced-out drawing. I'm sure that if I did it again, I would ask if I could do something more complicated," Delap said.
Art takes many forms, from pencil drawing, painting, photography, and much more. While many artists have specialties, it is interesting to note that many art students are multifaceted and enjoy art in different forms.
"I love photography," Tom said. "I have to build up a portfolio, so I'm using things from ceramics and photography to do that."
Tom is working to showcase her unique combination of talents.
"Usually in a portfolio you want to pick a theme. Since mostly people just do one type of art and they go with that, for example for a photographer they would just take a bunch of photos that relate to each other. But I'm doing ceramics and photography for my portfolio and that makes things more difficult," Tom said.
Programs for young artists can vary drastically, and the amount of opportunities available for students is always expanding. Taking a variety of classes allows an artist to develop a unique skill set and can open a student's eyes to possibilities that they never could have imagined.
"Even though painting is what I'm more known for here, my real passion is animating," Delap said. "I love cartoons and Disney and stuff like that. I really love especially when people take [painting and animation] and put them together, like animating paintings. That seems really interesting to me and I might want to do something like that someday. I love making pictures come to life."
Both Tom and Delap plan to continue their artistic journey in college. Tom is currently trying to talk to a Kansas City Art Institute graduate. Delap has similar plans and is considering attending KCAI herself and majoring in Animation.