Coach Palermo Discusses Excitement Over Successful Boys Soccer Season
On November 19th and 20th, the Boys Soccer team attended the State Final Four Competition in Soccer Park, St. Louis after a long 25-year wait to return. Competing against schools like Jackson, John Burrows, and Rockhurst, Blue Springs came out with a fourth-place award. Despite the loss, the team fought hard in the competition and throughout the season. The state finals came down to two games both ending in overtime but were among the best games the team had played all season, according to Coach Palermo. 
Coach Palermo, the head coach, explains that he never thought he'd be one to coach such a successful team. After 21 years of coaching, this was Palermo's first team to play in the State Finals. "It's a dream come true," Palermo states. Not only is Palermo an experienced soccer coach, but he also is an experienced soccer player. In fact, as a senior, Coach Palermo was a part of the BSHS 1992 state-winning team. So, to be able to return as a coach and lead his team to the State Finals was an amazing come-back experience for Palermo. "This will rank at the top of all my accomplishments as a coach," he continues.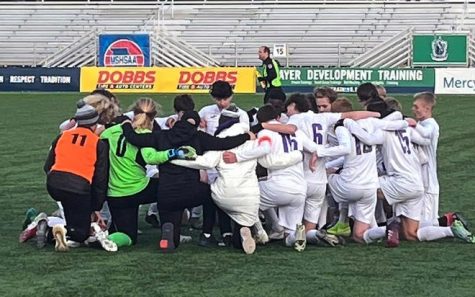 There were several factors that played into the success of the season. First, they were lucky to have an impressive variety of talented individuals across the field. Athletes like seniors William Rush and Caden Hoehns, both of which received the First Team All-State award this year, played their best this season. Then there was the addition of several surprising freshmen athletes, which help to raise the ranks quickly.  Palermo saw a lot of raw potential in freshman Vincent Croney. Though a group of excellent individual talent is important, a good team must have chemistry, and this is just what they had. "The boys loved being on the field together," Coach states, "each game simply came down to their mentality."  
 After several disappointing losses early season, the boys began to put the pieces together, leading to a streak of wins, one of which included their victory against Pembroke Hill. At the time Pembroke was ranked #2 in the state, but after a game going down into double overtime, Blue Springs prevailed with a 2-1 win. The boys also won against Blue Springs South in the District's Semi-Finals when South was annihilated and removed from the state series. Blue Springs then went on to defeat Rock Bridge High School, ultimately leading them to the Final Four competition.  
"The future for the team is bright," Palermo states. Despite the team losing many key seniors this coming year, if the heart behind the game continues and these freshman and sophomore players keep up the good work, they will see a lot of success. Tristan Hoyle, a sophomore goalkeeper on the varsity team, is one who will see a lot of action these coming years, along with Mason Willier, a sophomore forward, and Vincent Croney, a freshman midfielder. Each player showed incredible potential this season and the chances for future success are great.
Make sure to congratulate the Boys Soccer team for an excellent season this year!